We were scouting for a good SEA beach holiday in the tropics and used best resort asia. It was a great place to start as we immediately see all the rates that was being offered. We paid only 1000THB per night for standard room and got up grade to Superior Room ( BF excluded).
If you were to look around this place offers the best value.. can't get better than this.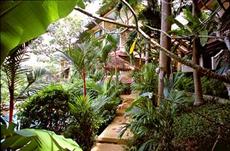 The great value resort is on the small hill on quite heart of Kata beach. Close to beach ( 5 minutes walk), and a block to shopping, eatery ect. The room is nice with private balcony over view the beautiful garden landscape and swimming pool. The room facilities are besic but adequate.
Just one disappointed point, we booked a double bed room but we got 2 single bed which were merged together. It didn't really comfy the next day we were moved to the new room which was fine and with a double bed room.
The hotel staffs are polite as we noticed. Asked for changing the beach towels , a House keeping clark didn't understand what we requested ( in eng) so we rang reception to ask for this. English should be trained for them , particulary for the front section staff.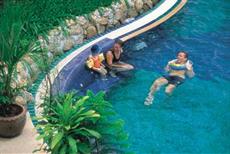 There are 2 pools and 1 Day spa. Massage was very good at the spa and moderate price only 200 THB per hr for thai massage.
By the way, Kata beach is a hidden gem! peaceful beach , the right place for holidays.
Overall, It is value for penny to stay here at serene Resort. I won't hesitate to come back again for my next trip to Thailand.
Unique Quality: The outstanding characteristics of this accomodation is the good room rates and the beauty of hotel landscapes. The room rates are unbeatable! You can get a good room ( but not fancy) on the downtown of Kata beach with breakfast at a unbelievable price. Having seen the pic from hotel website, I think the resort is beautiful than it has been advertised. All rooms facing the pool. there are many orchids and other tropical plant. Everywhere is 'green'. Guest rooms are good designed ,which all re facing the pool and lush tropical garden landscape.
Resort
Rating
Location
Rate, from
Serene Resort Phuket
Thailand > Phuket > 175 Kata Beach Koktanode Road Muang
841

THB
A summary of 596 guest reviews
35 guests mentioned the room cleanliness in a review, 31 felt they were very clean
48 guests mentioned the pool in a review, 45 said they loved using it
We found 73 reviews that said the hotel is in a convenient location
42 mentioned the cost of their booking in a review, 35 thought it was a fair price
62 guests mentioned the staff in a review, 51 found them helpful and polite
35 guests mentioned the breakfast in a review, 32 said it was delicious
( 1 Vote )
Comments (0)